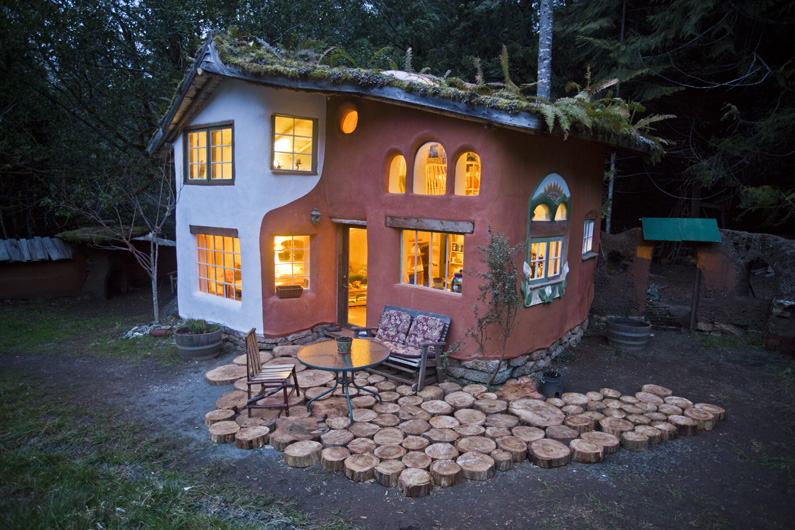 OFFICE HOURS
Monday/Wednesday/Friday - 10am to 2pm
541-396-1825 ~
cob@cobcottage.com
PO BOX 942, Coquille, OR 97423
NEW WORK PARTY ANNOUNCED!!!  HELP PREPARE FOR THE UPCOMING WORKSHOP IN SEPTEMBER!
 Join us anytime from August 30th to September 4th for a work party in preparation for our upcoming course.  See Workshop calendar for more information or call Rebekah at 541-396-1825.
SEPTEMBER COMPLETE COB AT THE SOURCE
- Enjoy the beauty of a summer amongt the rain forest of the Coquille Valley!  In a 9 day Complete Cob workshop taught by Allie Maggio, you'll return to where it all began some decades ago right here in Coquille!  It is not only the home of Linda and Ianto but it is also where many have learned before you.  In just 9 short days you'll learn all you need to know about making and building with Cob!  And explore the beautiful eco-forest of the Coquille Valley, truly a unique and inspiring setting.  Come join us at the Source!!! For more information you may email
cob@cobcottage.com
or call the office M/W/F at 541-396-1825 and chat with Rebekah.
SEPTEMBER COMPLETE COB AT THE SOURCE Se habla espanol aqui.  La majoria de los instructores hablan espanol.  Y mantienen interes en nuestros vecinos en latinoamerica.  Por ejemplo tenemos socios en Mexico y Ecuador, y Ianto Evans tiene tres anos continuos de viver en Guatemala ademas visitamos varios partes de Mexico y centroamerica cada ano.  Hemost ofrecido en el pasado cursos en Mexico, Guatemala, Ecuador, Brazil y otros paises.  Haganos el favor de pedir detailles por telefono, dias lunes miercoles y viernes entre las diez de la manana y las dos de la tarde tiempo pacifico.
SEPTEMBER COBBING IN YOSEMITE!!!
  Don't forget this last chance to Cob in 2014 with the Cob Cottage Company crew.  We will be hosting a 9 day Complete Cob workshop in beautiful Yosemite California.  If you delayed learning for the year, this is the perfect chance to experience cob and take in the incredible energies of Yosemite!  Join Dave and Pedro this September.  For more information you may email
cob@cobcottage.com
or call the office M/W/F at 541-396-1825 and chat with Rebekah.
NOW YOU CAN COME STAY FOR OUR MUD'N'MEALS AT COB COTTAGE COMPANY!
The Cob Cottage Company invites you to visit "Cobville" and meet the originators of Oregon Cob Construction. 
Tour our village of 20 cob structures and stay the night in a delightful cob cottage.  Take a walk in our rain forest and enjoy vegetarian / vegan cuisine prepared with our organic produce from our garden in our cob cafe.  If you wish, register for an upcoming course or arrange a special private consultation in building your own cob cottage using the soil right under your feet.
Special rates for 2014:
Suggested Donations:
  Cottage (per night)      $50
  Tour, Meal + Cottage  $100
  Tour + Camping          $50
  Special Consultation   $50
  Courses                     See website list


Please contact Linda Smiley directly at 541 551 1900 to make a reservation.  Hope to see you soon!
NEXT TOUR DATE:  Join us on August 23rd at 4pm  for a free tour and potluck to follow.  Meet the staff, see what we have been up to this year.  See over a dozen cob buildings and garden walls, huge sustainable garden and Boots the cat!  Call 541-396-1825 to RSVP.  If you can't make August the next one will be September 20th all at 4pm - hope to see you at one of them!
ROCKET MASS HEATER EDITION III is here!!!  Hot off the press....order NOW!
Ianto Evans and Leslie Jackson have done it again!  The best of the best Third Edition is ready for your reading and stoving pleasure!  Celebrating its tenth anniversary, this book is about bringing comfort home to the bench or bed you sit or lie down on.  Ecological Designer Ianto Evans, a visionary in Natural Building and an expert in improved wood burning stoves, who has been heating his home with a Rocket Mass Heater for over 25 years will inspire you to make one of your own.  Leslie and Ianto have done an outstanding job in creating this fully updated version with improved construction techniques, reader feedback, experimentations, and full Case Studies by the best Pyro's in the land.  You can order your copy by sending a Postal Money order or $24 cash to Cob Cottage Company at the address above; or order
NOW
online by credit card or electronic check to purchase a hard copy or downloadable copy at
ROCKETSTOVES.COM
~
for a limited time only you can save 20% off the download version by entering the code "FRIENDSHIP" at checkout
...and good luck with your stove!