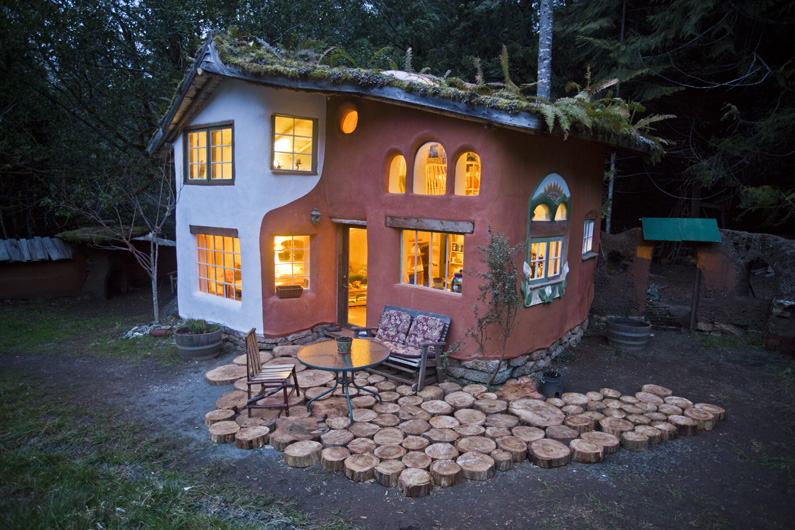 OFFICE HOURS
Monday/Wednesday/Friday - 10am to 2pm
541-396-1825 ~
cob@cobcottage.com
PO BOX 942, Coquille, OR 97423
EARLY BIRDS SAVE 10% ON 2015 COURSES!  Please click on the workshop tab to the left and you'll be taken to our calendar of events.  We are happy to announce once again this year Cob Cottage Company will be offering a few workshops at our complex here in Coquille and the majority of our Complete Cob workshops will be taught at our alumni locations off site to allow everyone easier access to this knowledge.  We encourage you to take a workshop close to you and save in time and resources!  The same teachers that come and teach for us in Coquille offer workshops in their area too.  Soon we will be posting our east coast workshops - stay tuned!
NEXT TOUR DATE:    Please Join us on February 28th at 4pm  for a free tour and potluck to follow.  Meet the staff, see what we have been up to this year.  See over a dozen cob buildings and garden walls, huge sustainable garden and Boots the cat!  Call 541-396-1825 to rsvp for a free scheduled tour or if those dates ask if you can schedule a private tour on a donaton basis. If you can't make it in February, next tour dates will be March 28th and April 25th, 2015.
ROCKET MASS HEATER EDITION III is here!!! 
Ianto Evans and Leslie Jackson have done it again!  The best of the best Third Edition is ready for your reading and stoving pleasure!  Celebrating its tenth anniversary, this book is about bringing comfort home to the bench or bed you sit or lie down on.  Ecological Designer Ianto Evans, a visionary in Natural Building and an expert in improved wood burning stoves, who has been heating his home with a Rocket Mass Heater for over 25 years will inspire you to make one of your own.  Leslie and Ianto have done an outstanding job in creating this fully updated version with improved construction techniques, reader feedback, experimentations, and full Case Studies by the best Pyro's in the land.  You can order your copy by sending a Postal Money order or $24 cash to Cob Cottage Company at the address above; or order
NOW
online by credit card or electronic check to purchase a hard copy or downloadable copy at
ROCKETSTOVES.COM