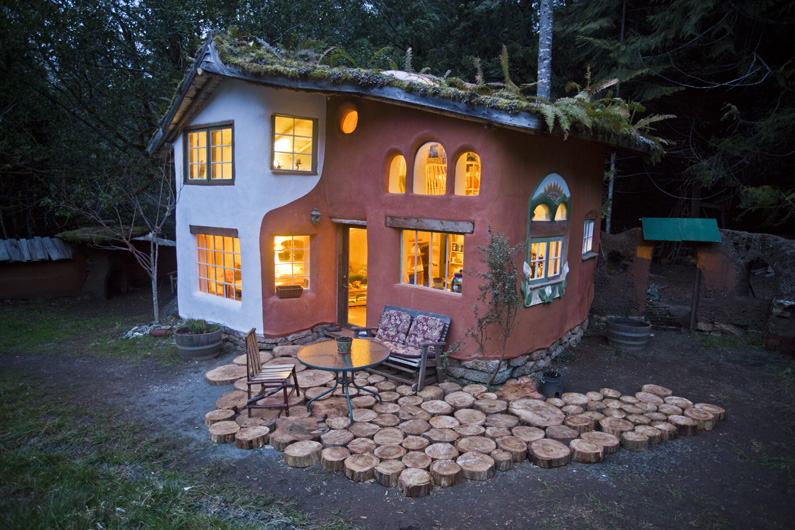 Volunteers Answering your Calls:
Monday/Wednesday/Friday - 10am to 2pm
541-396-1825 ~
cob@cobcottage.com
PO BOX 942, Coquille, OR 97423
NEXT TOUR DATE:   Our next tour date wil be early March (please call for date/time).  Starting at 2pm with potluck following the tour.    Please Join us for a free tour and potluck.  Meet the staff, see what we have been up to.  See over a dozen cob demonstration buildings and garden walls, huge sustainable garden and new kitty cat!  Call 541-396-1825 to RSVP for the tour, potluck and directions please.  Or if those dates do not work for you, call and ask if you can schedule a private tour for a $100 donation.  And if you want a longer stay - come camp and join in the next workparty just call. 

2020 SCHEDULE COMING SOON!!!!  Thank you for your patience, our 2020 schedule will be posted soon, please check back soon.  While you wait you can book your place in our June Eugene or July Bandon Cob and Natural Building Extravaganzas! Both are filling fast with only a few spaces left in Bandon.  Registration for that workshop is now OPEN - and filling fast.  BOOK NOW to and prepay to save your 10%.  Or at least book now to reserve your space, you won't want to miss this most popular of workshops! Email cob@cobcottage.com your intent or call Tammy directly at 541-Three47-7801.

WISH LIST - WE ARE IN NEED OF THE USE OF A GAS POWERED UTILITY CART WITH DUMP TRAILER and a spare small car that we can borrow for a few months - PLEASE HELP IF YOU HAVE ONE OR HELP US RENT ONE!!!  We are finishng up our solar system install and trenching and need to get the rocks up.  But because the bridge is

impassable to large trucks and heavy loads

(UPDATE: BRIDGE IS NOW OUT AND UNUSABLE BY VEHICLES) we must hall the rock in by hand and need to store a car on the other side of the bridge to transport Ianto and supplies up to the trailhead.  If you can help, please Call Linda ASAP at 541-396-1825 we can really use the help!

ECO-LODGING: Air B&B Mud and Meals program (open every Friday through Monday - see schedule by clicking on the menu bar to the left), and Weekends in the Garden with Ianto! (see schedule - starting July they will be held every weekend unless otherwise noted, please call to schedule past July). Please keep posted for workings on Timber Framing, Spoon Carving, Living roofs, work parties and more!  There will be many opportunties for you to come be introduced to Cob and sustainable living at our home complex in Coquille this year!  Don't miss that one!!!  Hope to see you this year!  Best wishes always! CCC
A SPECIAL MESSAGE FROM IANTO EVANS...
Ten Ways Natural Building can Address Climate Change
In 2009 Ianto was a featured speaker at the Summit on Climate Change in Copenhagen.  180 nations were present for a week, discussing ways to slow down global warming.  Here's the paper Ianto read, with minor updates. 
Amid the distraction of everyday life, the urgent banality of pandemic advertising and the media's creation of daily "crises" it's hard to remember that climate change is by far the most urgent agenda for all of us.  And it's sometimes a surprise to realize that Natural Building is one of the few easy solutions.  Natural Building won't stop global warming, but it stands a good chance of slowing it down.
In the United States, it's estimated that half of all energy use goes into buildings, the majority of them houses.  In housing, natural construction can probably save 50-80% of this energy, so in terms of low-hanging fruit, these apples are right there at basket level. 
Natural Building offers a number of strategies and principles that, when applied on a large scale, will drastically reduce the amount of carbon emissions associated with construction, heating, cooling and maintaining houses.  Here are some of them in brief:
1. Use of local materials, minimally processed
The local foods movement is in full tilt.  We're understanding the implication of buying corporate apples from Chile versus pruning our own apple trees.  As for building materials, what's the sense in hauling away your local trees to a distant sawmill, then buying back inferior standardized products at half the strength and ten times the price?  Do you really need to bring bricks from giant factories hundreds of miles away when we have earth to build with right here in the backyard?
2. Earth, the main material, is abundant world-wide, long lasting, reusable indefinitely
We know how to use earth to make beautiful strong walls, floors and plasters.  Cob houses in England are still lived in after 800 years.  In the Middle East, there are earthen buildings 3,000 years old.  Most of China's Great Wall is earthen constructions and is doing well after millennia.
3. With durable construction, no need for early replacement
Wood-frame houses with fiberglass insulation and sheetrock walls typically fall apart in a few decades, then there's the cost, both budgetary and environmental, of rebuilding or replacing.  Earthen buildings can stand for centuries with hardly any repairs.  If the average wood framed house is in good shape for even 50 years and the cob equivalent for 500, over time the ecological cost of sustainable buildings in only one tenth of the alternative, even assuming no other savings.
4. Build gloves, not boxes.  Smaller buildings have less heat loss, less maintenance, less everything
We don't clothe ourselves in boxes, why try to live in one?  Wrap the buildings around the use, as knitted socks fit your feet.  A tight fitting building can be much smaller, and a curved (not circular) space feels roughly twice the size of one with square corners and straight walls.  If we could do only one thing to cut global warming it would be to live in smaller homes that fit us better.
5. Observation of nature tells us what will work well
Building that accommodate natural principles will last longer, need less maintenance, create less pollution, and use less energy.  Nature has 10 billion years of slow experimentation to arrive at what works well.  We can learn from her.  For instance, she never repeats anything; if every daisy in the field looks identical, we're not looking closely enough.  She makes almost nothing square or straight.  Could it be that humans discovered a geometry of frailty?  Also, geological materials outlast biological ones. 
6. As a movement it can model non-consumer satisfaction, by making not buying
Building your own shelter effects a paradigm shift for almost anyone.  The awareness and self-confidence it creates overflows into other parts of our lives such as what food we eat how we spend our time.  We'll now enjoy other home-based activities – playing games with the family, making clothes instead of buying them, perhaps even starting a home business.  No more commuting means one less car.
7. Management by personal skills and observation, not by automation
Living in a natural house implies being engaged in its management, deciding when to open the curtains, let in fresh air, or make more heat by burning wood we cut, split and stacked ourselves.  We get basic satisfaction from these primary atavisms, involving us daily in Nature's cycles.  Re-focusing our attention at home has many side-benefits, from strengthening family relationships to decreased consumption.
8. Natural Building builds a network of resistance to compulsory consumption
As corporations gain more control of our lives, restrictive laws force us to consume more, over our own reluctance.  Building regulations ensure that legal construction is overbuilt and very expensive.  Well-intentioned consumers get trapped in a maze of insurance, taxes and fear of prosecution.  Almost by definition, consumers are isolated.  Yet because Natural Building is a social activity, it quickly creates networks of like-minded independents who gain self-confidence by being part of the movement.  By sharing stories and strategies, we understand our rights and options better.  Together we can stand up to societal manipulation. 
9. Older industrial societies model the advantages of traditional building
China just gained the distinction of being the world's biggest polluter, as a fifth of the world's people fight to own a personal car, to eat meat daily and to buy plastic throw-away junk.  Most of the world now aspires to a big concrete house with a giant TV.  Who taught them?  For decades, though media and international "aid" Americans have projected the American Dream as the only worthwhile goal.  Even if some of them hate us, many of the world's people still look to the US for models of how to house themselves.  But 8 billion people living in US-sized houses will commit us all to starvation.  It's time to model high-profile ecological buildings that work better and cost less than the industrial throwaways.  We already have their attention so now let's project a sustainable, joyful model for the rest of the world to emulate.
10. Natural Building attracts attention because it is a public performance
This field has been shown to grow exponentially, autonomously and democratically.  Almost anybody building with earth attracts helpers.  People just passing by join in because it looks like fun.  From small beginnings only 20 years ago, it has now become a worldwide movement.  Reasons for its success?  The techniques are simple; in a couple of weeks you can learn to build your own home.  Then you can teach that to other people and they can teach others.  Also, natural builders are manifestly having fun.  They're inspired partly by the cooperative, friendly, humorous approach.  The most unlikely people become aficionados at their first exposure, bubbling with excitement.  But who ever feel in love with concrete blocks?
By 2009, the industrial building industry was at a standstill.  Stories abound of unemployment, bankruptcies and withered hopes.  By contrast, natural builders have been fully employed, the whole time.  There's a backlog of work for skilled natural builders.  Here's a window of hope: the construction industry is desperately looking for ways to stay in business.  Maybe we have a key.  Is it time to let the secret out?