Description: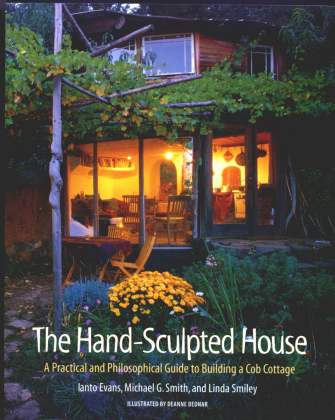 A Cob Cottage might be the ultimate expression of ecological design, a structure so attuned to its surroundings that the authors refer to it as "an ecstatic house". They build a house the way others create a natural garden, using the oldest, most available materials earth, clay, sand, straw, and water and blending them to redefine the future (and past) of building. Cob (the word comes from an Old English root, meaning "lump") is a mixture of non-toxic, recyclable, and often free materials. Building with cob requires no forms, no cement, and no machinery of any kind. Builders sculpt their structures by hand. Cob houses (or cottages, since they are usually efficiently small by American construction standards) are not only compatible with their surroundings, they ARE their surroundings, literally rising up from the earth. They are full of light, energy-efficient, and cozy, with curved walls and built-in, whimsical touches. They are delightful. They are ecstatic. The Hand-Sculpted House is theoretical and philosophical but intensely practical as well. You will get all the how-to information to undertake a cob building project. As the modern world rediscovers the importance of living in sustainable harmony with the environment, this book is a bible of radical simplicity. You won't want to miss The Hand-Sculpted House:
The definitive guide to Cob and Natural Building.
Authors Ianto Evans, Michael Smith and Linda Smiley are top authorities in the field.
346 pages, 8 x 10, 8-page color section and almost 100 black and white photos, plus 230 drawings by Deanne Bednar. Source lists, bibliography, the only full glossary of Natural Building, seven appendices including Codes and Permits, Earthquakes, Research Needed and Training Opportunities.
10 chapters of step-by-step how to do it, 9 chapters of background, including design, siting, budgeting and site preparation.
Explains how to make a durable, snug, fireproof, bugproof house with cob, a handmade composite of earth, straw and water.
Join the hundreds of people who are already building their own earthen greenhouse, courtyard walls, sauna, oven, cottage or house with cob, the easiest and oldest hand-building system. Russian translation now available (not available from Cob Cottage), Russian title: "Cob House, Philosophy and Practice", fully illustrated, 330 pages, Published by: Ridna Zemlia, Kyiv, Ukraine, contact publisher or local book store to order.